Extol hosts assembly workshop at Additive Manufacturing UG Conference
Extol led a hands-on workshop at the annual AMUG conference this year. People learned how to use welding and assembly to find the best solution to meet their 3D printing application's cost, performance, and lead time needs. Expand your knowledge through my conversation with Extol's Kyle Harvey about AMUG and the welding and assembly workshop.

What is AMUG?
The Additive Manufacturing Users Group (AMUG) is a global community of professionals using 3D printing and other additive manufacturing technologies. Founded in 1988, AMUG provides a forum for its members to share knowledge, expertise, and best practices on using additive manufacturing technologies.
AMUG hosts an annual conference where members gather to attend educational sessions and workshops and network with other professionals in the field. The conference provides an opportunity for members to learn about the latest advancements in additive manufacturing technology and applications and share their experiences and insights with others in the community.
Tell us about the workshop that Extol led at the AMUG Conference.
For the second year, Extol led a hands-on workshop entitled Beyond Adhesives – Assembling 3D Printed Plastics. Attendees experienced 12 different assembly methods to learn welding and assembly techniques as well as design tips.
Assembling 3D-printed plastics can enable many applications that would not be feasible to print in one piece. Here are some good reasons that an application may require assembly after printing:
Parts are too big to print in one piece

Powder must be removed after printing

Combining multiple materials

Optimize printing cost
📘 Download the Guide to Assembling 3D Printed Plastics
What kinds of people participated in the workshop?
Over 150 people attended the workshop from a variety of roles and companies. These people are active in product development and manufacturing, and their roles range from engineers from large automotive and aerospace manufacturers down to one-person design and consulting companies. Additionally, they are familiar with AM (Additive Manufacturing) and are interested in learning new methods to expand their capabilities to make more applications successful.
How did the workshop impact people?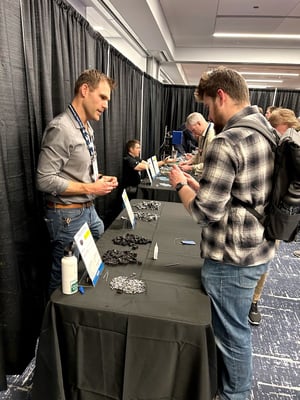 Person after person approached me during the workshop to express how much they learned and thank us for sharing our knowledge. Many people were excited to discover that adhesives are not the only option for assembling 3D-printed plastics. Given Extol's background in plastic assembly, we have a lot of tools in our assembly toolbox, and some of those traditional assembly methods can be impactful tools to apply to 3D-printed assemblies. Knowing the proper assembly method is often the difference between an application that is viable for 3D printing and one that does not meet the cost and performance requirements.
What did people learn?
Attendees learned how to select the right assembly method for the application based on factors like geometry, compatible or non-compatible materials, and automated or manual assembly processes. Extol also shared strategies, design tips, and techniques to use different assembly methods to create valuable solutions with AM. Finally, we covered a wide range of assembly processes we use at Extol daily, such as ultrasonic welding, laser welding, hot plate welding, extrusion welding, hot staples, screws, and staking.
How can other people get more value using 3D printing and assembly?
A commonly discussed benefit of AM is combining multiple pieces into one printed part to reduce assembly time and the number of components. Counterintuitive to this, Extol often separates parts and assembles them after printing to minimize cost. Once you have suitable options and tools for assembly, you can confidently find ways to reduce costs and enable more 3D printing applications.
Can Extol help people find the right assembly process for 3D printing even if they didn't attend the workshop?
Absolutely! Our application engineers are ready to help you find the right solution for any application. The assembly technologies in our toolbox allow us to think outside the box and find the best solution to meet your application's cost, performance, and lead time needs.
📘 Download the Guide to Assembling 3D Printed Plastics... or send us a message below.