Top 6 Reasons Machine Builders are Switching to 3D Printing
3D printing technology and materials have advanced rapidly, offering new possibilities and advantages for machine builders. Machine builders are replacing traditional CNC machining and urethane casting processes to use 3D printing for applications such as fixtures, EOAT, tricky custom details, and first shots of customer parts for debugging. Let's explore some of the benefits of 3D printing for machine builders, focusing on design freedom, reducing lead time and cost, reducing detail count, replacing messy urethane casting, keeping debug timelines moving, and reducing weight.
1 - Design Freedom
3D printing offers machine builders unprecedented design freedom, allowing them to create shapes and designs that would be impossible to achieve with traditional CNC machining or urethane casting. With 3D printing, machine builders can produce complex and intricate designs, creating more efficient, streamlined machines with a reduced footprint. Design freedom is particularly handy in creating the perfect solution for that tricky custom detail that would be too expensive to manufacture with CNC machining.
Watch and discover the basics of Multi Jet Fusion 3D printing.
2 - Reduce Lead Time and Cost
3D printing can also provide machine builders with substantial cost and lead time savings - especially for machine builders who outsource at least a portion of their CNC machining. 3D printing has faster lead times than CNC machining and is often less expensive. Machine builders who are 3D printing are receiving fixtures and details in 1-2 weeks instead of 3-4 weeks, providing opportunities to conquer that white-hot project or build some extra cushion into the timeline.
Read our case study on getting low-cost, strong, lightweight tooling faster with MJF 3D printing.
3 - Reduce Detail Count
By leveraging 3D printing technology, machine builders can combine multiple components into a single, integrated part. This reduces the bill of materials, simplifies the assembly process, and saves on manufacturing costs. Combining three parts into one yields two fewer details for your team to manufacture, track, and find on the detail rack for assembly.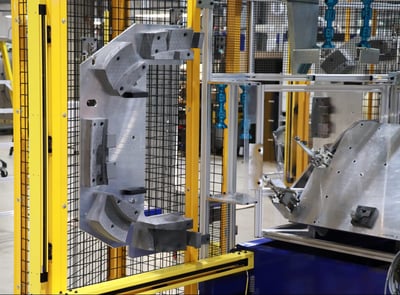 4 - Replace Messy Urethane Casting
Poured urethane is a messy and time-consuming process with inconsistent quality. 3D-printed fixtures can replace urethane casting by using various materials to achieve the desired durometer. For example, 3D-printed TPU has been described as "soft as a baby's bottom." It provides a surface that is soft to the touch to avoid damaging sensitive A-surface parts.
Watch and discover our Soft Touch Tooling™.
5 - Keep Debug Timelines Moving
How often are you waiting on first shots of customer parts for debug? Parts from customers are often delayed, but the equipment due date remains unchanged — we feel your pain. Machine builders are using 3D printing to make a robust, functional prototype of the customer's part that they can use to set up sensors, fixtures, and robot programs. This secret weapon allows them to use valuable calendar time for debugging even though the customer hasn't been able to provide parts.
6 - Reduce Weight
Weight isn't always the most critical design constraint for machine builders, but it can make or break a project for end-of-arm tooling (EOAT) or interchangeable fixtures. 3D printing allows fixtures and EOAT to be both strong and lightweight. Machine builders use 3D-printed end-of-arm tooling to replace heavy aluminum extrusion to reduce robot payloads. Furthermore, operators love handling light 3D-printed interchangeable fixtures rather than heavy ones that create ergonomic problems.
Watch and discover 3D-printed end-of-arm tooling.
Summary
3D printing technology offers many benefits for machine builders, including more design freedom, reduced lead time and cost, reduced detail count, eliminating messy urethane casting, keeping debug timelines moving, and reduced weight. By leveraging these advantages, machine builders can produce more efficient, streamlined, and cost-effective machines, gain a competitive edge in the market, and meet the demands of a rapidly changing manufacturing landscape.
Risk management is critical to machine builders, and many have had bad experiences with 3D printing in the past. But technology and materials have advanced rapidly. Selecting the right solution for your application requires experience. So we're here if you need help choosing the right 3D printing technology and material for the job!
Get started by sending a message using the form below. 👇