Getting nanoSTAKE on your next project
So, you've seen the new revolutionary nanoSTAKE technology and you are wondering how you can get it on your next plastic staking application. There are two great ways to do that. You can purchase a turnkey nanoSTAKE machine directly from Extol, or you can purchase nanoSTAKE through your preferred integrator. Either way, you get expert technology service from our knowledgeable team. Let's talk more about what is included in a nanoSTAKE integration package and how they work.
What's Included?
NanoSTAKE integration packages include all the components needed to operate the process in a machine. Each package includes nanoSTAKE modules, pneumatic kits, module controllers, and system controllers.
NanoSTAKE modules stake the plastic parts. They include the punch that forms the plastic bosses into stakes, an LED module status indicator, a position sensor, and an air spring. Modules can be configured with a 1:1 punch to air spring ratio for moderately spaced stake points. They can also be configured with up to a 4:1 or 8:1 punch to air spring ratio for tightly spaced stake points.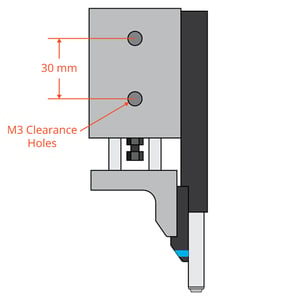 A pneumatics kit supplies the compressed air for up to 8 nanoSTAKE modules. Compressed air serves two purposes for nanoSTAKE. First, a regulator and manifold are used to control the force applied by the modules. Second, a filter and manifold supply cooling air. In both cases, the valves on the machine (not included in the package) supply air to the pneumatics kit.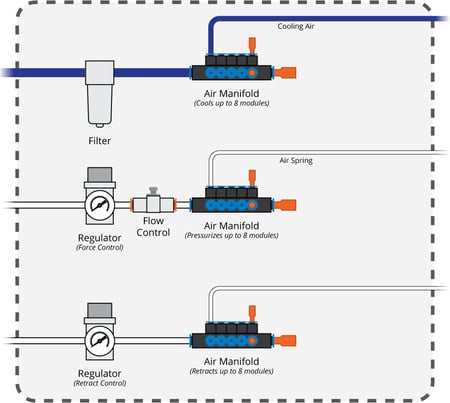 A module controller controls up to 4 nanoSTAKE modules and provides power for the Smart Respond™ heating system. It also controls the LED indicators on each module.

Lastly, a system controller controls up to 20 nanoSTAKE modules. The user interacts with the color touchscreen and the processor controls the nanoSTAKE process and connects between the module controller and the machine PLC. The screen comes in two sizes: 7" and 10".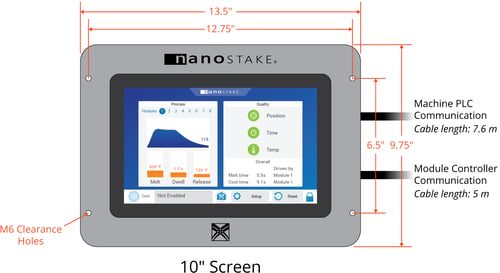 How do integration packages work?
You can work directly with Extol or through your preferred integrator to get nanoSTAKE on your next project. Our Integration Support team will work with you and/or your integrator to configure the integration package that is right for you. Once the package has been ordered and the CAD data of your application has been sent to Extol, we get to work designing the modules and layout specific to your assembly. Within a week, we'll send you the proposed design for approval. Once approved, we build the package and ship it to your integrator within 4-6 weeks. From there, we support the integrator and make sure they have the tools they need to integrate the nanoSTAKE technology into your machine. You'll have a nanoSTAKE machine in no time!
So, do you have a nanoSTAKE application that you'd like us to take a look at? Fill out the form below to get in touch!